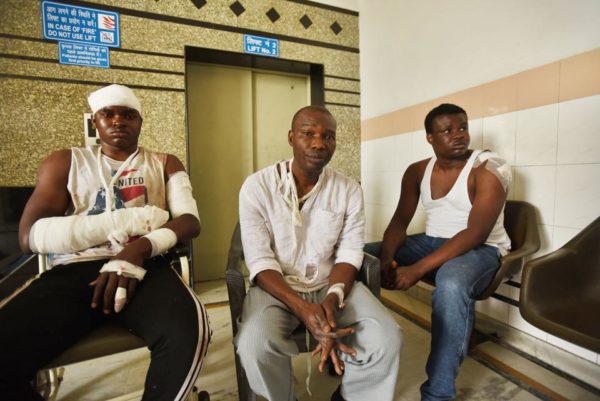 Four Nigerian students were wounded in an attack on them by Indian nationals in the Northern state of Uttar Pradesh.
The attack came after a candle light march was held in honour of an India student who died of a suspected drug overdose. Five Nigerian students in the neighbourhood were detained in connection to the case, but were later released for lack of evidence.
The victim, Manish Khari, 16, a Class 12 student in Greater Noida's NSG Black Cats had gone missing last Friday evening.
Times of India reports
that locals who claimed to have seen the boy last with a group of Nigerians, raided their (Nigerians) houses and accused them of cannibalism.
According to an eyewitness: "The crowd was peaceful until it reached Pari Chowk, but went out of control at the sight of Africans in the market. The protesters roughed up many black people until police intervened and baton-charged to disperse them."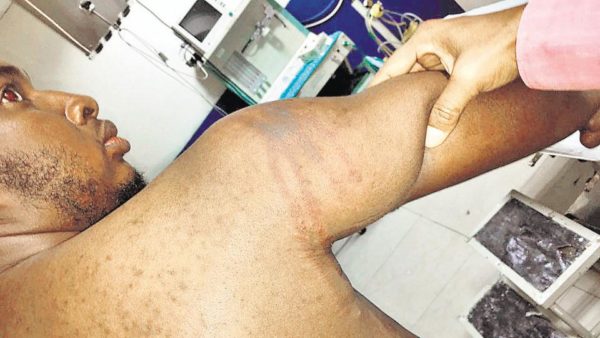 Another victim of the attack. Photo Credit: Hindustan Times

Locals are also protesting that Africans should be evicted from the area.

"The population of Africans is growing in Greater Noida, which is increasingly becoming a menace to locals," a resident, Sher Singh Bhati was quoted as saying.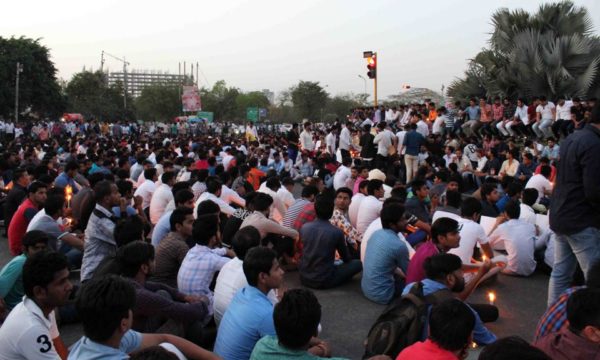 The protesters. Photo Credit: Hindustan Times
Indian authorities on Tuesday ordered an investigation into the attack and about seven persons have been arrested.
Foreign Minister Sushma Swaraj promised "immediate action" after a Nigerian student begged her for help, saying living in the area had become a "life-threatening issue".
"I have spoken to Yogi Adityanath, chief minister of Uttar Pradesh about attack on African students in Greater Noida. He has assured that there will be fair and impartial investigation into this unfortunate incident,"
she said on Twitter
, referring to the state in which the incident occurred.
"I have asked for a report from Government of Uttar Pradesh about the reported attack on African students in Noida," she added.
Noida police chief Dharmendra Singh said four Nigerians were admitted to hospitals and seven locals were arrested for the mob violence.
"Some people tried to give the incident a racial twist and there has been hate-mongering over the social media. Three hundred people are listed in the police complaint and more arrests are likely soon in raids," he said.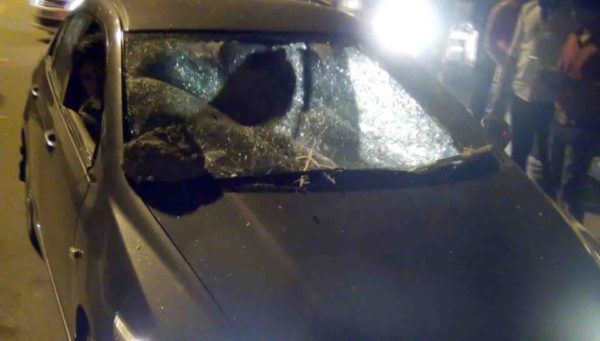 A car vandalised during the attack. Photo Credit: Hindustan Times
Attacks on Africans have been reported at regular intervals in India in recent years.
Hindustan Times reports
that the attack in coming less than a week after a 23-year-old man from Congo was stoned to death by three people in Kishangarh village near Vasant Kunj.
Last May, a Congolese student was beaten to death in Delhi. Earlier, a Tanzanian student was attacked and partially stripped by a mob in the city of Bangalore.